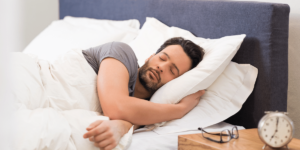 By now, we all know sleep is extremely important for our overall health and happiness. Yet, an alarming number of us still don't get the sleep we need. As with diet and exercise, it can be difficult to start and maintain healthy sleeping habits. Thankfully, there are some simple things you can do to set yourself down the path toward a successful night's rest. Read on for more information and healthy sleeping tips.
Create a relaxing pre-sleep routine.
Especially after a stressful day, it's important to set aside time before bed to allow your mind and body to decompress. That said, there is no 'one size fits all' when it comes to pre-bedtime rituals. In fact, there are plenty of proven strategies that can help you better prepare for a rejuvenating night's slumber. So, try out different methods until you find what works best for you.
Take a relaxing soak. Studies show that taking a bath one to two hours before bedtime can soothe the mind and body, lowering the heart rate and blood pressure. Take your relaxation to the next level by adding calming essential oils, such as lavender, chamomile, or bergamot.
Turn down the lights. Bright lights can reduce hormones like melatonin that help you relax and get deep sleep. They can even trick your brain into thinking it's still daytime. When you are home at night, use lamps instead of overhead lights. Or take it one step further by burning candles with a calming scent.
Disconnect from electronic devices. When it comes to lights that trick your brain into thinking it's still daytime, blue light is the worst. Blue light is light electronic devices like smartphones and laptops heavily emit. Try disconnecting from these devices 1-2 hours before bedtime. Additionally, wear blue light blocking glasses when using electronics at night or try downloading a blue light blocking app like lux.
Listen to calming music or meditate. Instead of listening to the news or the chatter in your mind, put on some soothing music. Classical music has been proven to lower blood pressure. Also, there are now several podcasts and apps dedicated to helping people sleep better using soothing music, relaxing sounds, and guided meditation.
Optimize your sleep environment.
Your bedroom should be a place for rest and rejuvenation, with no stress or distractions. It seems like a simple concept. Yet so many of us fall short when it comes to crafting a sleep-friendly bedroom environment. Thankfully, there are several simple ways you can turn your room into an oasis of peace and tranquility.
Keep it cool and dark. While it's ultimately a matter of preference, most experts agree a cool 60 to 70 degrees Fahrenheit is the sweet spot for sleeping temp. Furthermore, for most of us, the darker the room the better. Be sure to cover all ambient lights on electronic devices. Also, try using blackout curtains or blinds to keep out all exterior light.
Choose the right tools for the job. Let's face it, high-quality mattresses, pillows, and linens can get pricey. Yet, considering the average person will spend half their life in bed, high-performance products may be well worth the investment. With an overwhelming number of sleep products on the market, the best option is often a matter of preference and budget. So do your research! Take the time to find the best products to suit your needs.
Cultivate a peaceful ambiance. The state of your room often reflects your state of mind. So, avoid the chaos of a messy, cluttered bedroom. Also, keep noise to a minimum. If there are outside noises you can't control, try using a noise machine, a white noise mobile app, or even turn the fan on high. If you prefer no noise at all, try earplugs or headphones.
Establish a schedule.
Consistency is key for helping your body get used to a healthy sleep routine. So, set yourself up for success by establishing – and sticking to – a regular sleep schedule.
Set your wake-up time. First, start by setting a fixed time to wake up each day. Do your best to stick with it, even on weekends and days that you might otherwise be tempted to sleep in.
Budget time to get the sleep you need. The National Sleep Foundation's guidelines advise that healthy adults need between 7 and 9 hours of sleep per night. So, be sure to consider this when setting your fixed sleep schedule. For example, if your set wake time is 6:30 a.m., you should be asleep by 9:30 – 11:30p each night. Don't forget to allow yourself extra time before bed to wind down and prepare for sleep.
Nap with care. To ensure a restful sleep at night, it is important to approach napping with caution. While napping for 30 minutes less can enhance daytime brain function, longer naps can harm health and sleep quality. If you choose to nap, it is best to do so mid-day, shortly after lunch in the early afternoon. Also, keep nap length to around 20 minutes.
Nurture healthy habits throughout the day.
Believe it or not, preparing for a good night's sleep starts the minute you wake up. In fact, the things you do throughout the day could mean the difference between a long, sleepless night and waking up rested.
See the light. Light – especially direct sunlight first thing in the morning – can profoundly impact our internal clocks. Light exposure will not only improve your daytime energy but can also greatly increase your sleep quality and duration. So, slap on the sunscreen, throw open the windows and blinds and take a stroll outside. Light therapy boxes also serve as a convenient alternative if sunlight is not your thing.
Avoid alcohol and caffeine. Alcohol and caffeine also deserve caution. The stimulating effects of caffeine can take hours to wear off and make it more difficult for the mind and body to reach the state of relaxation needed for sleep. Also, don't let alcohol fool you. Although it may make you feel sleepy at the time, it can disrupt your sleep throughout the night.
Exercise regularly…but not before bedtime. Of course, daily exercise has a wealth of health benefits. It is also key for a good night's sleep, as it initiates changes in energy use and body temperature. However, make sure to watch the timing of your workouts. Exercising too late may cause sleep problems due to its stimulatory effects.
Eat and drink…but not before bedtime. No one wants a grumbling tummy keeping you awake. However, you don't want an overly full stomach or multiple trips to the bathroom to hinder your slumber either. So, avoid eating big meals or drinking liquids within two to three hours of bedtime.
Know what to do if you still can't sleep.
Finally, we all experience a sleepless night from time to time. But if you often have trouble sleeping or find your sleep problems worsening, contact your doctor. There are multiple ways an expert can help. Most importantly, identifying and treating any underlying causes and/or conditions can help you get the restful sleep you so desperately need.
Remember, sleep is essential to your health and happiness. After all, a good night's rest can make call the difference.
---

Essential Sleep Consultants is an entirely sleep-focused practice in Hendersonville, TN led by Dr. Roxanne Valentino. Our Mission is to provide exceptional quality and convenient, patient-focused care for adults and children with sleep problems. We strive to treat sleep issues effectively so that our patients can enjoy their lives to the fullest. Learn more about us or contact us today.